Convert MP4, MPG, AVI, MOV, WMV To MP3 Audio Format!

MP4 To MP3 Converter Pop Conversion
MP4 To MP3
Convert Now!
FLV To MP3
Convert Now!
MPG To MP3
Convert Now!
WMV To MP3
Convert Now!
WAV To MP3
Convert Now!
MP3 To WMA
Convert Now!
MP3 To WAV
Convert Now!
Fast MP4 to MP3 Batch Conversion on Windows


MP4 is one of the first formats made for the video files. Even today, 80% of the video files are shared in the MP4 format due to its high compatibility with the most digital devices. Most users love videos, but it happens with all of us when we want to listen to the beautiful music or dialogues of a particular video again and again. Unfortunately, MP4 videos cannot assist in satisfying our urge listening to an audio clip on the loop. Several videos to audio converters are available on the internet for MP4 to MP3 conversion. All of them are third-party apps because all of the Windows versions lack a built-in audio-video converter.


What are MP4 and MP3 Files?

MPEG-1 Audio Layer 3 (MP3) and MPEG-4 Part 14 (MP4) files were invented in the early 90s for the sharing of digital information in the form of audio clips and video clips. Both the MP4 and MP3 are the media files that are used to store and transfer data.

MP4 Files: These are the digital video coding files that are used to store audio, still, and moving images, subtitles, and text slides. They consume more space in comparison to text documents, image files, and audio clips.

MP3 Files: These are the audio coding files that are used to contain single kinds of data, i.e., audio codes. Due to its single type of data, MP3 files take less space than their counterpart MP4 files.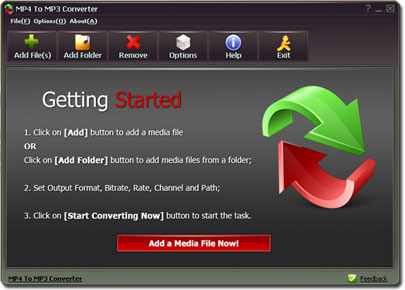 Best Features of MP4 To MP3 Converter Tool for Windows


The MP4 To MP3 Converter is a fantastic utility that converts enormous lists of videos into audio clips. The converter app supports the full range of media formats for converting and saving the media files. Along with the MP4 to MP3 file conversion, users can also use the MPG, WMV, AVI, FLV, and MOV videos for conversion into MP3, FLAC, WMA, OGG, and WAV audios. You can get Version 4 of MP4 To MP3 Converter for Windows 2000, 2003, XP, Vista, 7, 8, and 10 or later versions from its official site.


1. User- Friendly Interface
MP4 To MP3 Converter app has a straightforward and clear interface for supporting all levels of users. Its advanced technology performs complicated conversion tasks with ease. The automated interface of the MP4 To MP3 Converter does not need complicated input from the users.


2. Customized Conversion Options
MP4 To MP3 Converter is a perfect app for batch processing of thousands of video files into MP3s. It also has the customization options that help the users in adjusting the final output. High bitrate ensures high-quality audio input files. Furthermore, you can also select the type of audio format for better results.


3. High-Quality Audio Results
High-quality audio files usually have a higher bitrate value. Most high definition sound clips have 320KBPS bitrate. Along with the conversion tasks, MP4 To MP3 Converter tool also improves the sound quality of the low audio files by increasing their bitrate value. Increasing the bitrate is not a complicated task. You can set the output path to 320KBPS for increasing the bitrate of your converted audio files.


4. Latest Audio Extraction Function
Windows users can extract the audio of any of their MP4 or video file by this new extraction feature. Upload your desired video and initiate its conversion to audio clip. Yes! It is that simple to get audio of your favorite videos. The quality of the output videos can be determined by customized bitrate value and video format.


5. MP3 Cutter For Audio Editing
Like the audio extraction feature, MP3 Cutter allows you to extract a trimmed segment from the audio clips. Users define the duration time counter for extracting the trimmed version of the audio clip. MP4 To MP3 Converter saves the trimmed audio clips into your selected folder without overwriting the original sound clip.



MP4 To MP3 Converter Tutorial for Batch Conversion in Windows


MP4 to MP3 converter is an offline tool that converts video files into audio files in big batches. Follow this easy tutorial for batch conversion of MP4 files to MP3 audio files.

1. Download the MP4 to MP3 Converter and install it on your computer. Installation package activates by double-clicking on the mp4tomp3.exe installation file.

2. "Add Folder" button is used for uploading the video files to the MP4 To MP3 converter app. Users can add more than 200 video files for batch conversion.

3. On the bottom panel of the MP4 To MP3 Converter window, you can see the "Output Path" option. Use the "Browse" option to define the output path. MP4 To MP3 Converter app saves the converted MP3 audio clips in the selected folder.

4. Finally, initiate the batch conversion of your media list by pressing the "Start Converting Now" button. Within a few minutes, the MP4 To MP3 converter app would finish the task.

Note: MP4 To MP3 Converter app usually takes less than 5 minutes for batch processing of long media lists.