Convert MP4, MPG, AVI, MOV, WMV To MP3 Audio Format!

MP4 To MP3 Converter Pop Conversion
MP4 To MP3
Convert Now!
FLV To MP3
Convert Now!
MPG To MP3
Convert Now!
WMV To MP3
Convert Now!
WAV To MP3
Convert Now!
MP3 To WMA
Convert Now!
MP3 To WAV
Convert Now!
How to Convert MP4 Videos to High-Quality MP3 Music


The fast speed internet has enabled users to download and share high-quality content. MP4 files are the most widely used type of video formats all around the globe. Users can enjoy high definition and precise details in an MP4 video, but they consume huge storage space while the MP3 audio-only consumes 1/10 part storage space in comparison to MP4 files. Due to the efficient storage of the MP3 audio files, most users prefer to convert the MP4 video files into less space-consuming audio files. For high-quality audio conversion, users can get the installation package of MP4 to MP3 converter from its official site and convert their video files into high-quality MP3 music.


What is MP4 to MP3 Converter Tool?
MP4 to MP3 Converter is an incredible tool for editing the MP3 clips or converting MP4 videos to MP3 files. You can cut the particular part of an audio file and save it as a high-quality audio clip by setting its bitrate to 320KBPS. It also has the batch mode option for a faster output rate. MP4 to MP3 Converter app has other customization options as well, which lets the users quickly edit audio clips.


1. Secured and Junk Free Installation
MP4 To MP3 Converter is a high-class audio editor that lets the users enjoy its premium functions by paying negligible lifetime charges. This tool does not coerce the installation of spam softwares or forces the users to preview ads.


2. Interactive User Interface
The Convertor tool has a useful yet min design to ease the conversion process for the users. Users can upload, set the values, and enjoy the high-quality converted MP3 files. Furthermore, the converted MP3 files are also compatible with all kinds of PCs and cellular devices.


3. Customization of Conversion
Most importantly, users can adjust and modify the quality of edited output files. You can upload several MP4 video files for editing. Bitrate customization lets the users decide the quality of the MP3 files. Furthermore, you can also get the converted files in WMA and FLAC formats for better sound quality.


4. High-Quality Output of MP3 Files
The premium quality audio files mostly have a bitrate of 320KBPS. By selecting the higher bitrate value and a high-quality output format like WMA, users can get high-quality audio clips. For having a high definition audio file select the 320KBPS as the output path for the converted files, and you would get fantastic quality in your music files.


5. Audio Extraction
Users can use the extraction feature of the MP4 to MP3 Converter for getting high-quality audio files. Upload the selected video to the converter app and initiate the extraction process. You would get the extracted audio files stored in your selected folder.


6. MP3 Cutter
If you want to crop a particular clip from an audio file, MP3 Cutter can help you. Set the duration range and initiate the editing to get the cropped audio clip. Extracting the audio clip from any MP3 audio file is quite easy and does not need any technical skills.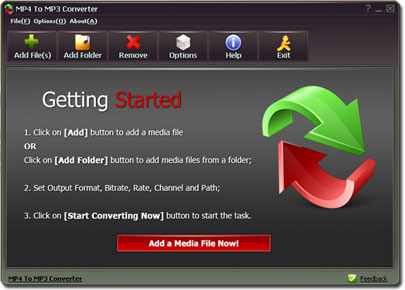 How to Convert MP4 Videos to High-Quality MP3 Music

You can convert your MP4 video files to high-quality audio files by using the MP4 To MP4 Converter. Follow this simple tutorial for the conversion of MP4 videos into audios.

1. Get the installation package of MP4 to MP3 Converter from its official site. Run the installation package by double-clicking on the installation package or mp4tomp3.exe file.

2. Add a single or multiple videos to the Converter tool by using the "Add File(s)" or the "Add Folder" button. Users can upload hundreds of video files to the converter app for audio conversion.

3. At the bottom side, there is an "Output Path" button. Press on the Browse button to set an output path. Furthermore, set the bitrate to 320KBPS for high-quality audio files and choose a high-quality format for your music audio files.

(MP4 to MP3 Converter would save the converted MP3 files in the defined storage location as a new file.)

4. Hit the "Start Converting Now" button to kick-start the conversion process. Within a few minutes, the converter app would give you high-quality converted MP3s.